NEW PARADIGM CHATEAUNEUF DU PAPE



Mounir Saouma's Châteauneuf-du-Pape cuvées are unlike anything else out there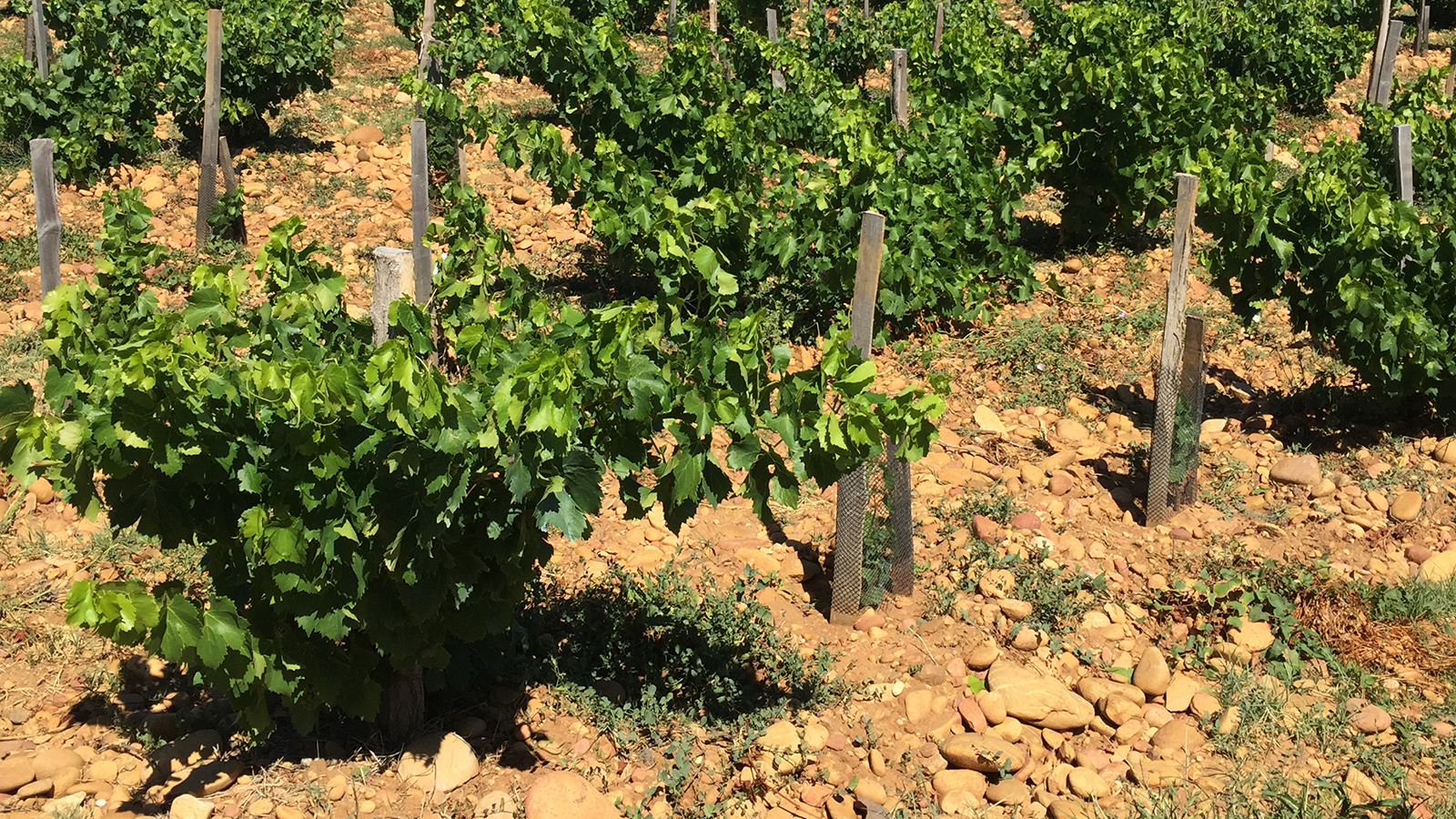 The last time I caught up with Mounir Saouma in Châteauneuf, he was taking over a parcel of vines in the Pignan lieu-dit that wasn't doing well. One in three vines were dead and the vigneron had his work cut out for him.

I could barely recognize the parcel when I saw it again. Full of life, completely filled in and looking remarkably homogenous and balanced (the existing vines at the time of the purchase were recently planted, so the age gap between those and Saouma's planting is only a few years).

"When you grow vines in Burgundy, everything else is easy," says Saouma with a laugh, referring to his Lucien Le Moine brand farther north. "There there's maybe [4 inches] of soil. Here, I can go down [3 feet] deep when I plant a vine. It's a joke, it's so easy!" he says in a warm-hearted way.

Indeed the depth of soil matters, but so does Saouma's efforts. As for the coulure that hit hard this early season, Saouma is hedging his bets by letting the second-generation clusters stay on the vines. Normally these clusters, often two weeks behind the development of the first generation, would be green harvested as they would struggle to ripen.

"But look at them," says Saouma. "Even though they formed two weeks behind the first ones, they don't look that far behind. "Plus, the first generation clusters are so light, the vines will probably have the energy to ripen both. We'll pick the first ones probably a touch overripe, and these will have that much better acidity. We can try to find balance that way, and make up for the crop loss of the coulure."

This domaine, which now totals 21 acres in Châteauneuf and an additional 22 acres in Côtes du Rhône-Villages, is creating a new paradigm for wine, a statement I don't make lightly. Saouma's techniques are atypical; the results are simply thrilling. The reds are sublime, offering a purity of fruit I have rarely seen anywhere, while harnessing the power of Châteauneuf into an elegant expression of Grenache on sandy soils.

"People say my Châteauneuf is Burgundy style," says Saouma. "Yes, it's a different style. But it's not Burgundy style. They say that because they don't have a reference."

He says this not with boastful pride, but rather a thoughtful, intellectual approach, adding, "Different doesn't mean better. I'm not saying my wines are better, I'm just saying I do things differently. Beaucastel makes wines in a different way from me and I love their wines," he says.

Saouma's right. I don't have a reference for his wines either, other than that I've been tasting Châteauneuf in the region for 15 vintages now. I've never seen a unique style executed to such precision. I'd say that's the definition of a new paradigm.

The reds are fermented as whole clusters, with a third of the grapes crushed. No SO2 is added and the grapes go directly into vat for a seven- to nine-day cold maceration, with no punch-down or pumping-over. The fermentation starts naturally with the cap lightly washed a few times to keep it from drying out. After ferment, the must is pressed directly into aging vessels for the élevage, during which no sulphur is added. As the wine sits on its fine lees, they are eventually digested, and only a light sulphuring is done two months prior to the bottling.

At first glance, the low sulphur is a recipe for disaster, with volatile acidity, oxidation or brett likely to rear their heads.

"Yes, I am taking a risk, a big risk," says Saouma. "But if you are going to take risks, you have to guard against them. I top off every week. Every seven days," he emphasizes. "Other vignerons might top off every two weeks or once a month. And natural winemakers rarely top off. Eighty percent of oxygen exchange in wood is through the bung—only 20 percent through the oak. This way the wine is protected and it can nourish itself off the lees."

The 2016 Châteauneuf Omnia will be aged for 24 months before bottling. It shows stunning kirsch and cherry compote flavors with a gorgeous floral hint and a bright mineral finish. The 2016 Châteauneuf Arioso is pure Grenache just from the Pignan lieu-dit, and it receives 36 months of élevage before bottling. The cassis core is dark and dense, but electric in feel, almost pulsating through it's beguiling, incense-filled finish. The 2016 Châteauneuf Petit Livre takes free-run juice from the Arioso vat and is aged in a single demi-muid for 60 months prior to bottling. It has unbridled plum and blackberry flavors, with a pâte de fruit intensity but live-wire acidity. The finish is a blaze of fruit, silky tannins and fine minerality. It just zooms through, with riveting energy, yet shows terrific clarity, as if it were in stop-motion at the same time. It's a thoroughly mind-boggling wine.

We tasted through multiple vintages of each cuvée, including the Petit Livre back to 2012, which still sits in demi-muid. But the 2016s capture the essence of what has shaped up—over a week's-plus worth of barrel tastings—into one of the finest young vintages I have tasted. It's a perfect storm here, matching vintage quality to a vigneron who's about to become a lot better known. Even Saouma seems to realize things like this don't happen often.

"2016 is something totally new. We don't have words for it yet. There is something unusual between the color and the tannins," he says. "When you pour the wine and see the color, it's so dark. But then the wine is so fresh, the tannins so integrated. We don't know why, but it's doing its thing."

Saouma is doing his thing too. And it's unlike anything I've seen here before.